Arrotex Pharmaceuticals has announced the launch of Vit. C Melts, which will be available to community pharmacies from April this year.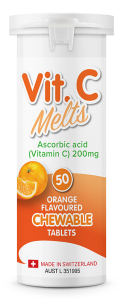 The Vit. C Melts join Iron Melts on the shelf as chewable vitamin and mineral tablets that melt in the mouth.
Each Vit. C Melt contains 200mg of vitamin C. Coming in a chewable tablet form is said to increase dosage flexibility and absorption, making it a suitable choice for children 2-years plus.
"Studies show that higher doses may result in a decreased degree of absorption compared to divided doses of 200mg, making Vitamin C Melts a strong option for those whose dietary intake is low," says Maureen Valdes, General Manager Marketing, Consumer Brands for Arrotex.
"The chewable tablet formula encased in portable, convenient-to-carry packaging that has been so successful with Iron Melts, lends itself to other vitamins and minerals, and we look forward to further expanding the Melts family with the addition of Vit. D Melts, to launch mid-2022," she says.
The Vit. C Melts are advertised as being sugar-free, lactose-free and vegan-friendly, and by helping to maintain vitamin C levels, they are advertised as an option to help reduce the severity and duration of common cold symptoms while supporting the immune system's health and function.
According to Arrotex, the Vit. C Melts may also help to maintain collagen and connective tissue health while enhancing the dietary absorption of iron.
The Vit. C Melts come in a pack size of 50 chewable tablets, with the RRP being $9.95.