There has been a rapid rise in technological advancement in 2020. Mobile communication and cloud-based data are enabling digital solutions to be developed at an astonishing rate, and the Covid-19 pandemic is accelerating collaboration between governments, research organisations and the private sector.
While we already have My Health Record, we're also seeing the change of e-prescribing – multiple other changes are likely to become the norm, such as the current use of telehealth during Covid-19.
All these are a small part of the forthcoming e-health revolution.
Interestingly, the World Health Organisation (WHO) defines e-health as "the transfer of health resources and healthcare by electronic means".
Dispensing is certainly front and centre in what will take place in this space.
From the dispensing perspective, we'll see increased automation, including robot dispensing and packing of DAAs. Community pharmacies will be wise to embrace the opportunities that are coming.
With prescription medicines currently responsible for an estimated 66.5% of the average Australian community pharmacy's revenue, the dispensary is clearly the heart of the business.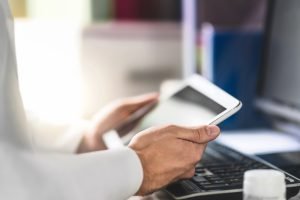 Any category producing more than two-thirds of business revenue needs to be monitored and maintained.
Pharmacists dedicate a significant amount of their time in managing the smooth running of the dispensary operation, and thus the health of the business.
However, every minute spent 'looking in' is a minute that can't be spent looking out, and there are some important things to look out for at present, not least the threat from online medicines providers.
To illustrate the significance of that threat, the UK now has more than 350 online pharmacies registered, with millions of consumers now regularly using them to buy medicines and online healthcare products.
The largest of those online pharmacies, Pharmacy2U, reports it delivered the medication for 300,000 patients in the past 12 months using its National Health Service prescription service.
The service works similarly to Australia's e-prescribing model, transferring e-prescriptions to nominated pharmacies directly from GP surgeries.
Is the advent of e-prescribing a 'Kodak moment' for community pharmacy dispensing in Australia? Absolutely. Change is here.
Any pharmacy expecting to maintain dispensing revenues at the current average of a third of total revenues typically seen in community pharmacies across Australia without firmly embracing e-prescribing is going to struggle against some strong competition.
Dispensing software
Having spoken with some of Australia's dispense software vendors, it's clear there's a solid focus on ensuring every customer is supported on this e-health journey.
All vendors are focused on providing software that will perform exactly as required by ongoing changes and legislation, while also building in flexibility, particularly as e-health will involve consumers finding different ways to interact with the pharmacies they use.
Corum Healthcare Head of Pharmacy Solutions Nick Richardson says e-prescribing has already created some opportunities for patients to reconsider how they get their medicines.
"Traditionally, you've had a piece of paper and you, or your authorised representative, have taken it to the pharmacy," he says.
"Now, you've got mobiles, and you've got emails, and people are saying, 'I've got this SMS, so why don't I just forward it to the pharmacy, let them dispense it, then deliver it to my door?' In fact, that's exactly what some are already doing.
"We're seeing the traditional model of having to go into the pharmacy with a piece of paper being turned on its head very quickly – and remember, the token is just the first step.
"We're pleased to see there's a large number of doctors embracing e-prescriptions and they're even making contact with pharmacies, saying 'We want to start using this – are you ready?'"
When it comes to being ready, pharmacists need to take the time to understand the e-prescribing process, ensuring not only their systems but their staff are ready, because there's little time to delay.
The reality is patients can present with an e-prescription today.
Australian pharmacy software vendor Minfos has been helping its pharmacies make the transition to e-prescribing for more than two months now.
Marketing Communications Manager Nithiya Benjamin tells Retail Pharmacy magazine the company released an update to its dispensing software in mid-June, ensuring pharmacies using its dispense software could dispense e-prescriptions in line with each state and territory's rollout.
"More than 85% of Minfos pharmacies in these regions have updated their software," she says.
"While this is a fantastic outcome that shows the willingness of pharmacy to adapt to technological change, it's too early to speculate about the time frame in which e-prescriptions will be commonly used across Australia."
Of course, this depends on the patient. However, Minfos believes pharmacies face two key challenges in adopting digital technology: implementation costs and managing the process of change.
"That's why we chose to make the e-prescriptions update within the Minfos workflow a no-cost upgrade for our customers," Ms Benjamin says.
"Our e-prescription functionality is also developed based on the belief that pharmacies are more likely to adapt to change when the functionality is easy to use, familiar and follows a well-known dispense process.
"Minfos is focused on preparing our customers, so they're ready when the first patient with an e-prescription walks through the door. As part of that, we're recommending customers look at our 'How to manage e-prescriptions' video to understand how simple the dispensing workflow is."
To read the full feature as it appears in this month's issue of Retail Pharmacy magazine, visit: retailpharmacymagazine.com.au/magazine/