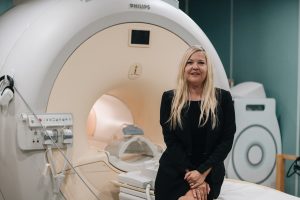 It turns out that chronic pain has even more control over people's lives then we may have thought initially.
More than three million Australians experience chronic pain, and it can last from months to years.
A new study shows that people with chronic pain have an imbalance of neurotransmitters (chemical messengers) in the part of the brain responsible for regulating emotions.
The imbalance could be making it harder for them to keep negative emotions in check, with the researchers from UNSW Sydney and NeuRA thinking persistent pain might be triggering the chemical disruption.
"Chronic pain is more than an awful sensation," says senior author of the study Associate Professor Sylvia Gustin, a neuroscientist and psychologist at UNSW and NeuRA.
"It can affect our feelings, beliefs and the way we are."
She continues, "We have discovered, for the first time, that ongoing pain is associated with a decrease in GABA, an inhibitive neurotransmitter in the medial prefrontal cortex. In other words, there's an actual pathological change going on."
The research
The research team used advanced neurological imaging to scan GABA content in the medial prefrontal cortex of 48 study participants, half of which experienced some form of chronic pain.
A/Prof. Gustin says this relatively small sample size is typical for neurological imaging studies, which are costly to run.
"A decrease in GABA means that the brain cells can no longer communicate to each other properly.
"When there's a decrease in this neurotransmitter, our actions, emotions and thoughts get amplified."
A/Prof. Gustin says she hopes the findings are encouraging for people with chronic pain who may be experiencing mental health issues.
"It's important to remember it's not you – there's actually something physically happening to your brain."
Changes to treatment
Medication affects the entire central nervous system and may come with side effects.
A/Prof. Gustin and her team have recently developed an online emotional recovery program, specially targeted at people with chronic pain, as a non-pharmaceutical option for treating the neurotransmitter disruption.
"The online therapy program teaches people skills to help self-educate their negative emotions," says A/Prof. Gustin.
"The brain can't dampen down these feelings on its own, but it is plastic – and we can learn to change it."
For those interested in learning more about the program, please contact the team via neurorecoveryresearch@unsw.edu.au.
The findings are published today in the European Journal of Pain.