While social isolation is difficult for people across all age groups, older adults have been hit a little harder than most. They're not only especially vulnerable to COVID-19, but when fear and loneliness are added to the mix, it creates a perfect storm.
Many are scared, being among the high-risk age groups for serious or even deadly COVID-19 infection, particularly if they have existing medical conditions. Some may also have heard conspiracy theories such as the one claiming that 'the virus is man-made and designed to depopulate the planet'.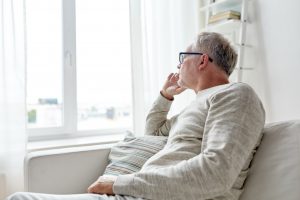 However, while helping to minimise the chance of infection, social isolation creates other issues, including that, among older adults, it's a public health concern because it leads to heightened risk of cardiovascular, neurocognitive, autoimmune, and mental health problems.
In addition, as a high percentage of older adults lack the technical savvy needed to use various social media tools such as Zoom, WhatsApp or Messenger video conferencing, they're finding it hard to keep in touch with loved ones. This leads to loneliness, which, if experienced for extended periods of time, puts older adults at increased risk of depression and anxiety and can exacerbate existing mental health problems such a dementia.
In the May issue of Retail Pharmacy magazine, we spoke with Dementia Australia around the support, advice and resources that retail pharmacies can provide to patients living with dementia, and their carers, when they visit the store.
Dementia-friendly support
Among the most at-risk people at this time are those living with dementia, 70 per cent of whom currently reside in the community. Depending on their symptoms and the progression of the disease, they will have varying levels of understanding of the changing situation with COVID-19.
Some have limited communication skills or lack the ability fully to understand the current situation. It may be that they fail to adhere to social distancing restrictions, and it's likely they may become confused or anxious if interactions with them aren't handled sensitively.
"These are unpredictable times that are disruptive and turbulent," says Dementia Australia Executive Director Corporate Services and Governance Anthony Boffa.
"They can create even more uncertainty for people living with dementia, so we must be alert to these situations that can cause heightened risks."
Dementia Australia has underscored the importance of providing care and support to people living with dementia during these unprecedented times.
Professional development
As community pharmacists are the health professionals most frequently visited by people living with dementia and their carers, Dementia Training Australia runs a range of courses exploring the role community pharmacies play as a provider of dementia information and support.
Community pharmacists can complete free courses that cover the ways in which pharmacy can improve its ability to meet the needs of people with dementia. The courses offer the opportunity to develop clinical skills that can be used when evaluating medication management strategies for those living with the condition.
Also available is the course 'Dementia friendly pharmacy', covering the process needed to become a dementia-friendly pharmacy, including training for staff and assessment of the physical environment. This course also explores medications commonly prescribed for dementia, including their risks, side effects and how they may interact with other prescribed medications.
"For people living with dementia, their family, carers and friends, and for anyone in the health and aged care industries, it's important for them to know they're not alone," says Dementia Australia CEO Maree McCabe, adding that if they have any questions they should call the National Dementia Helpline (1800 100 500) for information and support.
A unique opportunity
Fortunately, because the need for medication continues, community pharmacies are among the few places still visited by older adults or their carers, presenting an opportunity for reassurance,  communication of important information and a check that all is well in terms of medication compliance, so that those older adults can cope during this crisis.
To read the full article, 'Go the extra mile with social distancing', as it appears in the May issue of Retail Pharmacy magazine, visit: retailpharmacymagazine.com.au/magazine/