In recognition of NAIDOC Week (4-11 July), a week that invites all Australians to embrace First Nations' cultural knowledge and understanding of Country, the Pharmacy Guild of Australia, Queensland Branch, is sharing heart-warming stories from community pharmacies on their Facebook page.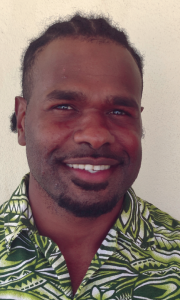 In addition to this, the Pharmacy Guild of Australia, Queensland Branch has also unveiled artwork at the start of NAIDOC Week, which was commissioned from Torres Strait Islander artist, Barry Maitie, who credits his Elders, Aunties and Uncles for recognising his artistic talent and giving him the confidence to practise his craft.
"Barry is a self-taught artist working exclusively with acrylic paint on canvas and only started painting seriously in 2018," says Acting Branch President, Mr Chris Owen adding that he is honoured to reveal the painting this week.
"His images reflect his homeland of Malu Kiai, Boigu, and his distinctive style expresses the vibrant spirit and atmosphere of the Torres Strait culture.
"Myths and legends told by Elders, the environment, the constellations and the traditional Malu Kiai culture are a constant source of inspiration for Barry."
Mr Owen says that The Pharmacy Guild of Australia, Queensland Branch, Branch Committee, and staff have thanked Barry for creating this artwork.
"We are deeply appreciative of the stunning work Barry has created," says Mr Owen.
"We are thankful Barry has shared with us his creative gifts and allowed us the privilege of displaying his work in a manner that will allow us to enjoy and reflect on its meaning for many years to come."