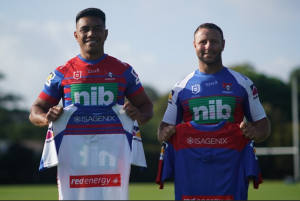 To kick off the 2021 National Rugby League (NRL) season, the nib Newcastle Knights are joining forces with Isagenix International.
The new partnership will see the Knights and Isagenix work together on a range of initiatives aimed at improving the health of Knights players and supporters.
It will also be including the Isagenix logo feature on the back of the Knights playing jersey for 2021.
Isagenix products are designed to help people get and stay healthy, while its supportive community of customers and independent distributors are committed to helping each other feel, look, move, or eat a little better each day.
"The partnership we are building is truly unique," says Chief Executive Officer at the Knights, Phillip Gardner.
"While it has all the usual elements of a sporting sponsorship, there is also a mutual commitment to helping our community become fitter and healthier.
"Through the Knights and Balance Collective gyms, we will work with Isagenix on a range of initiatives aimed at improving the health and wellbeing of our Members and fans. Each will be given the opportunity to sign up to IsaBody Challenges or learn from our Head of Physical Performance Balin Cupples and our Nutritionist Rachel Svenson about keeping fit and healthy."
Isagenix General Manager, Australia & NZ Steve Foxwell says, "Our partnership with the Knights signifies the essence of Isagenix – to support people on their path to health and wellbeing.
"We are excited for the 2021 NRL season and to be working with the players and fans, as they start their Isagenix journey."
Isagenix will make their debut on the Knights jersey 12 March, when the nib Newcastle Knights begin their class with the Canterbury-Bankstown Bulldogs.
(Feature image via Newcastle Knights website)