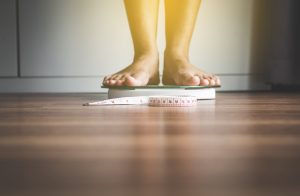 Obesity and being overweight are leading risk factors for serious health conditions in Australia.
Weight management has been an ongoing issue for a significant amount of time, and despite the growing trend of health and fitness on social media – there is still a lot of work to do.
According to the Australian Institute of Health and Welfare (AIHW), two in three adults (2017 to 2018) are overweight or obese.
In addition to the long list of health conditions that arise from poor weight management, obesity and being overweight can also lead to poor gut health, which in itself can cause more health concerns.
At least 50 per cent of Australian adults experience unpleasant gut symptoms such as bloating, gas and constipation – and one in seven experience distressing symptoms.
People who are overweight or obese are more likely to experience symptoms of poor gut health. Weight loss achieved through a healthy balanced diet can help improve gut function.
Symptoms of poor gut health include:
• Bloated stomach
• Frequent heartburn
• Abdominal pain
• Excessive flatulence
• Growling stomach
• Constipation/diarrhoea
• Frequent nausea
• Excessive burping
To ensure a healthy gut, a substantial amount of fibre and overall balanced diet are needed. Dietary fibre not only keeps the digestive system healthy, but it also has the capacity to aid laxation, reduce blood cholesterol and lower blood glucose.
However, dietary requirements for fibre are not always being met. An individual may not be able to reach a sustainable level of fibre due to personal or medical reasons. Therefore, a product that contains a combination of fibre and prebiotics will have a better overall impact on consumers' health.
As a result of ongoing weight issues, consumers are desiring healthy alternatives and products that will aid in managing their weight.
Research shows that consumers are expected to spend $320 million on dietary supplements, industry weight loss counselling services and related low-calorie foods in 2019-20.
Slim down with SlimBiome
Maxum Foods is making the everyday Aussie's health a priority by manufacturing and distributing OptiBiotix Health's weight management technology, SlimBiome.
"It's clear the demand for new weight management technology is becoming more prevalent," Maxum Foods Director Dustin Boughton said.
SlimBiome is an ingredient formulated by leading UK universities, and will help combat the obesity epidemic that is negatively impacting so many Australians.
"SlimBiome will enable health food manufacturers across Australia to answer these consumer demands, deliver innovative products and ultimately take their share of this $320 million market," Mr Boughton said.
It offers a weight management system that utilises microbiome science, reducing food intake cravings by promoting the feeling of fullness and maintaining blood glucose levels.
This approach helps consumers to help themselves.
The product has won multiple awards, such as Best Functional Ingredient for Health & Wellbeing at Food Matters Live 2017.
Excess weight and obesity are major risk factors for:
Cardiovascular disease
Type 2 diabetes
High blood pressure
Sleep apnoea
Psychological issues
Some musculoskeletal conditions
Some cancers.
To read more about SlimBiome, head to the Retail Pharmacy magazine, November 2019 issue.
References available upon request.