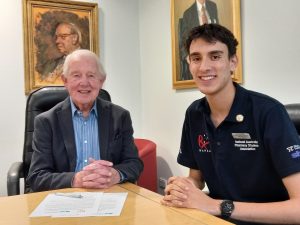 The Pharmacists' Support Service (PSS) and the National Australian Pharmacy Students' Association (NAPSA) have renewed their Memorandum of Understanding (MOU), which formalises their ongoing relationship for the next three years.
The MOU also reportedly includes an agreement to collaborate to promote the well-being of the pharmacy profession, which is vital as we continue to battle through the Covid-19 pandemic.
John Coppock, PSS President, says that this renewed relationship will ensure that the needs of the NAPSA members will be met "appropriately both now as students and into the future when they are registered pharmacists".
Outgoing NAPSA President Ethan Kreutzer adds that it's "reassuring to know that the PSS is available for support" for pharmacy students as they "prepare to enter the pharmacy profession".
"As soon-to-be pharmacists, it is important to look after our own mental health and wellbeing within our day-to-day practice and to manage stress," says Mr Kreutzer.
"NAPSA supports PSS in their hard work and dedication to support the individuals who make up our profession.
"We are very pleased to be able to continue our work with the PSS to enhance well-being in all members of the pharmacy profession."
The PSS is available to provide a listening ear from 8am to 11pm AEST every day of the year.  Call 1300 244 910 for anonymous and confidential support from a pharmacist colleague over the phone.
More information about PSS and some useful resources for pharmacists can be found on the PSS website at supportforpharmacists.org.au.
The PSS is guided by representatives from the following organisations:
Australian Friendly Societies Pharmacies Association;
Australian Pharmacy Council;
National Australian Pharmacy Students' Association;
Pharmaceutical Defence Ltd;
Pharmacy Guild of Australia;
Pharmaceutical Society of Australia;
Pharmaceutical Society of Victoria Ltd;
Professional Pharmacists Australia;
Society of Hospital Pharmacists of Australia.