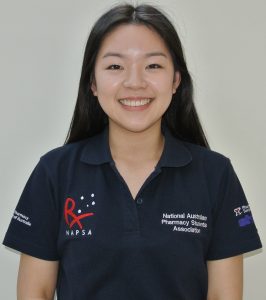 The new President of the National Australian Pharmacy Students' Association (NAPSA) is University of South Australia student Jessica Hsiao, replacing Sandra Minas in the role.
The new board executive directors are Eliza Herd (University of Newcastle), Tina Blefari (University of South Australia), Teana Didsbury (Queensland University of Technology), Lily Pham (University of Sydney), Stephanie Salvatore (Royal Melbourne Institute of Technology, Joshua Hogben (University of South Australia) and Alicia Martin (University of Canberra).
The Pharmacy Guild of Australia has acknowledged the appointment of the new board. Acting National President Anthony Tassone says he and his fellow Guild members welcome the opportunity to work with Ms Hsiao and the new board executive directors.
"On behalf of the Pharmacy Guild, our national council and all our members, I would like to congratulate Ms Hsiao on being elected to the position of President of NAPSA for 2018-19," Mr Tassone said. "I also would like to congratulate the seven new board executive directors on their appointments.
"The Pharmacy Guild of Australia and NAPSA have a long history of close association and collaboration in the interests of ensuring pharmacy students receive the best possible opportunities while studying, and graduate with the clinical skills and expertise to pursue their careers in the great profession of pharmacy."
Mr Tassone also thanked the outgoing NAPSA board.