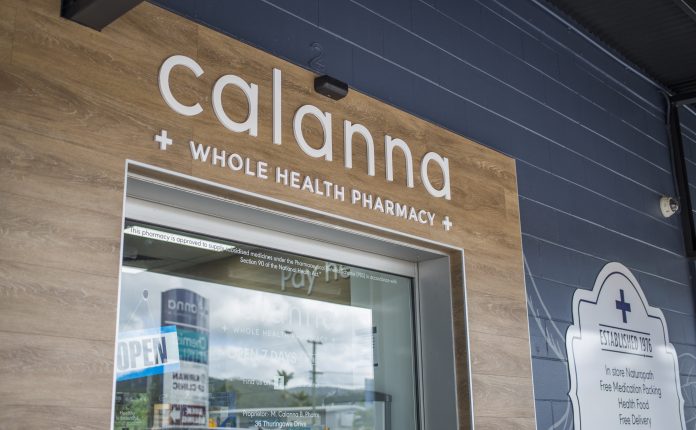 Earlier this year, we spoke to Community Pharmacist and Proprietor, Matthew Calanna on why he loves community pharmacy, and the types of success his pharmacy has seen.
One of the biggest challenges successful Queensland pharmacist Matthew Calanna faces is meeting expectations – his own and those of the people he works with, his patients and his suppliers.
Part of the reason for this is that he has helped build the family business, Calanna Pharmacy Woree, into an 11-pharmacy brand that he manages.
Mr Calanna says such an achievement can present expectations that at times are hard to meet.
"With so many changes, innovations, opportunities and other distractions, it's difficult to maintain focus and be present," he says.
"I think we all struggle with that, and it certainly is something I try and be mindful about."
Mr Calanna has been a pharmacist for 15 years and says one of his motivations is always enjoying helping customers in the pharmacy by providing advice, reassurance or just someone to talk to.
"I like the fast pace of community pharmacy and I love that community pharmacy is so accessible to the public," he says.
Success outside of dispensary
Mr Calanna says the most successful area of the pharmacies outside the dispensary is vitamins and health foods, which includes the group's own wide range of naturopath services and products.
"First aid and wound care is a large category within the business, along with medicated skin care," he says.
"We have stores that specialise in compression garments and sleep apnoea, which are large categories.
"We also offer a range of professional services, and these vary across the different stores. However, all stores offer the core 6CPA programs such as MedsChecks, clinical interventions and so on.
"But we also have naturopaths at four of our locations, a nurse doing compression garments, sleep specialists operating sleep clinics, selling and hiring sleep apnoea products, and at-home sleep testing, Impromy weight loss, home medication reviews, residential medication reviews and quality use of medicines.
A variety of clientele
Mr Calanna says the group's patient demographic is diverse.
"Because we're spread out in Queensland, we have a very wide range of patients and customers," he says.
"However, we can learn a lot about who our customers are through our loyalty club. We have a really strong loyalty club across the whole group and this is able to provide some really great offers for our customers.
"The demographic that our loyalty club has shows we have a really prominent client base of people who are aged between early to mid 20s and early to mid 40s.
"In addition to these customers, baby boomers are also a strong part of our demographic, as are the older clientele.
"But more and more we are now finding that we have a really strong younger/young family segment shopping across all of our stores."
Mr Calanna says the philosophy for his business is centred on everyone in the pharmacy being regarded as 'family'.
"We are individuals all with our own unique abilities, strengths and weaknesses, and we come together and work together as a team towards common goals and focus," he says.
To read more from Mr Calanna, click here to view the full feature in Retail Pharmacy magazine.