It's cold, it's pouring with rain and your partner is out of town. You're trying to care for two sick toddlers and, if you're honest, you don't feel all that well yourself.
This was the desperate reality for the mother who called pharmacy owner Robin Salvestro 40 years ago and in doing so unwittingly inspired Drive Thru Pharmacy in Griffith, a Soul Pattinson pharmacy in the Riverina city, a GuildCare NSW Pharmacy of the Year finalist and this month's profiled pharmacy.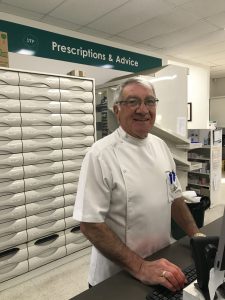 After 30 years of incubation, Mr Salvestro was finally ready and identified a site for his dream: a drive-through pharmacy with two scripts-in and two scripts-out windows, offering speed, flexibility and convenience.
Today, with experienced and competent staff, a Willach dispensing robot and FRED dispensing software, the pharmacy averages a flow of seven minutes per vehicle, with options to drop off scripts for later collection or drive through script dispensing and collection – all in addition to snap and send, and in-store dispensing.
Pharmacy Profile
Name of profiled pharmacist: Robin Salvestro.
How long have you been a pharmacist? Dare I say 50 years? 
How many staff do you employ? Seven fulltime and two to three casuals.
How long have you operated your current pharmacy? 10 years. 
Do you offer professional services? Yes: BP, blood sugar, ear piercing, vaccinations, MedsChecks, Diabetes checks, DAAs, staged supply.
What kind of customers do you attract? All ages but predominantly mothers and men. 
What is the philosophy for your pharmacy business? Happy team: happy customers.
What is the size of your pharmacy? About 270sqm.
What is the most successful OTC category in your pharmacy and why? S3 – pharmacy only, convenience of drive-through, plus one-on-one private consultation.
Describe your day-to-day challenges and how you overcome them? Dealing with difficult customers and ensuring our team provides happy, efficient service while also being organised and productive. Short term challenge has been the difficulty of procuring stock and trying to help our customers through this.
What has been your most satisfying moment in the pharmacy? There are two: when I first opened the Drive Thru Pharmacy, realising a 30-year dream of the future of pharmacy; [and] with the onset of the COVID-19 pandemic, the 10-year wait to see another dream materialise with the Drive Thru working to capacity for an extended period, cars queued, and all windows manned.
Future plans
Drive-Thru Pharmacy Griffith is certainly going from strength to strength and Mr Salvestro is excited about the future.
He is working on plans to expand into the area of professional services, following the Pharmacy Guild's 'Community Pharmacy 2025' advice to develop into a community health hub.
As part of this, plans for the construction of three consulting rooms have now been approved, intended for additional professional services and including health educators such as those for mental health, nutrition, diabetes, and potentially, men's health.
Robin Salvestro's Drive-Thru Pharmacy, Griffith may have been a dream for 30 years, but today it's a rewarding reality, promising even more in future for the community he loves.
To read the full feature as it appears in this month's issue of Retail Pharmacy magazine, visit: retailpharmacymagazine.com.au/magazine/