TerryWhite Chemmart (TWC) has taken out the top gong at the 2022 Inside Retail 'Retailer Awards' held at the Immigration Museum in Melbourne on 3 March 2022, for Customer Experience of the Year – Medium to Large Business.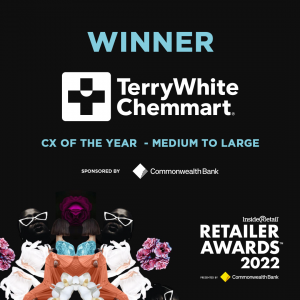 The award is in recognition of the incredible efforts displayed by the TWC group of pharmacies in delivering vaccination services to the community, particularly throughout the Covid-19 vaccine rollout. 
Executive General Manager Nick Munroe says the award tops off what has been, and still is, one of the most challenging yet rewarding periods in pharmacy history.
"Our network, and everyone behind the scenes, has worked incredibly hard to deliver what we have always believed is the most professional and convenient vaccination experience for Australians," says Mr Munroe. 
"We are thrilled to accept this award on behalf of our more than 1500 hard-working vaccinating pharmacists and their teams.
"TWC is the largest vaccinating pharmacist network in the country and we are now recognised as the premium healthcare provider of vaccination services in community pharmacy," continues Mr Munroe. 
Winter Health Campaign
With flu season just around the corner, TWC is launching its Winter Health Campaign for 2022, with a strong focus on the delivery of the co-administration of flu and Covid-19 vaccinations, which Mr Munroe believes is another way TWC is making vaccination simple and convenient for customers. 
"While much of what we do is focussed on ensuring our vaccinating pharmacists are well supported, we have an equally strong focus on making the vaccination process as convenient and accessible as possible for customers to ensure every Australian has access to vaccinations.
"That is why we have invested heavily in our booking systems and spent countless hours finetuning the digital workflow to take the hassle out of booking and improve the customer experience.
"This is particularly evident in our newly launched co-admin booking service, which allows customers to book both the flu and Covid-19 vaccination in one simple process." 
Another vaccination milestone 
Reportedly, TWC is set to reach another milestone in vaccinations next week with the delivery of one million Covid-19 vaccinations.  
"These numbers would not be achieved without all the systems, support, training and professionalism that exists within our network and just a general commitment to be the best provider of vaccination services in the industry," says Mr Munroe.