By linking people to a qualified psychologist through any text channel available on their phone, the Gold Coast start-up Virtual Psychologist is disrupting the way people can reach mental health support by making it easier, faster, less confronting, and potentially life-saving.
The platform is easier than an app, it doesn't require any downloads, accounts, or registrations, and is accessible to anyone in the world who can text.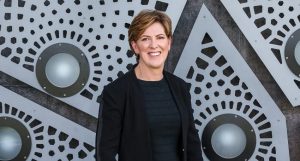 Virtual Psychologist founder and CEO Dervla Loughnane said revolutionising the way people could access psychological support had led to new research that has revealed counselling by text was rated as better than or equal to face-to-face counselling.
It was also improving the speed and scale of how at-risk people could be diagnosed faster and be connected with the right support.
Lifesaving help direct by text
Ms Loughnane, a psychologist for more than 20 years, said it was her experience being called to a Gold Coast school where a young man had taken his own life that made her want to change the way help could be delivered.
"When we worked with the police and looked through his phone records, we realised this young chap hadn't reached out for any help whatsoever," Ms Loughnane said.
"And I asked myself: What was so confronting for him that he didn't reach out for any help? And I wondered if a simple text message could have saved his life, would he have felt more comfortable if he could just have sent a text?"
Ms Loughnane said the question took hold so deeply that she quit her practice to develop a start-up where help was only a text away.
"I thought we as psychologists should be moving with the times and providing different channels of entry.
"The service is still the same. You are still getting a qualified psychologist, you are still getting cognitive behavioural therapy or other appropriate therapy, all that we are changing is the channel that we are delivering it in.
"This is probably what sets us apart from so many other start-ups. We are clinically led. It is a psychologist starting a health-tech business, we are not a tech founder giving psychology a go," she said.
After starting with a single mobile phone, Ms Loughnane now helms a global IT platform, where qualified psychologists are available through most texting channels including SMS, Facebook Messenger, or WhatsApp.
"We can be reached by whatever is on your phone.  You don't have to create an account, you don't have to download an app, and there's none of that.
"I wanted there to be as little barrier to getting help as possible, so with whatever is already on your phone, you can come straight through to a psychologist.
"We've also gone on now to deliver video services, audio services, messaging services and all text-based services, so we really are now a channel of choice."
Ms Loughnane said texting Virtual Psychologist always linked to a qualified professional.
"You come through to a psychologist. We don't have any chatbots. You do talk to a human, and that's really important to us."
How texting breaks down barriers for help
Ms Loughnane said research into the program over two years, which has been backed by analysis from the University of Sydney, found many people preferred counselling by text.
The research found text-based counselling was rated as better than or equal to face-to-face therapy on measures of convenience, making progress with problems, and having access to help when it was needed.
Significantly, text-based counselling was also rated as just as effective as traditional face-to-face counselling for conditions including depression, anxiety, and emotional problems.
It found that 67 per cent of people in rural or remote Australia reported that without text messaging, they would not have reached out for psychological support at all.
Within a corporate setting, 44 per cent of people said they wouldn't have reached out if text counselling hadn't been available.
For more information, visit: virtualpsychologist.com.au