Pharmacy brand, Amcal, officially launched its first Amcal+ Life Clinic pharmacy at an event that saw addresses by prominent pharmacy figures, including Anthony Tassone from the Pharmacy Guild of Australia.
The launch was held at Burwood One Shopping Centre in Melbourne's East.
"We are proud to be launching our industry leading pharmacy format that has a clear focus on delivering improved health outcomes, with easy access to an extended range of pharmacy services," said local pharmacist and owner, Linh Tran.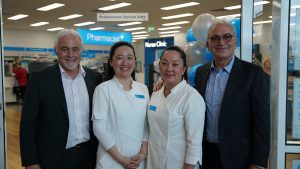 The latest in pharmacy formats to come out from Amcal, Amcal+ Life Clinic is designed to complement the Amcal+ and Express format pharmacies through collaborative, accessible patient healthcare.
Amcal+ Life Clinic is expected to offer extensive health services, as well as expanding on Amcal's existing technology capabilities through the introduction of Becton Dickson's V Motion touch screens and dispensary automation.
A stand-out of the new pharmacy format is the integration of premium pharmacist led health services, allied health practitioners and a targeted product offerings to complement key categories.
"We are continually monitoring the landscape to ensure we are creating pharmacies to cater to the future needs of Australians," said Head of Amcal, Kurt O'Brien.
"Today's launch signals a commitment to just that – our first Amcal+ Life Clinic pharmacy will deliver a holistic patient experience that lives up to our mission of putting trusted healthcare within the reach of every Australian."