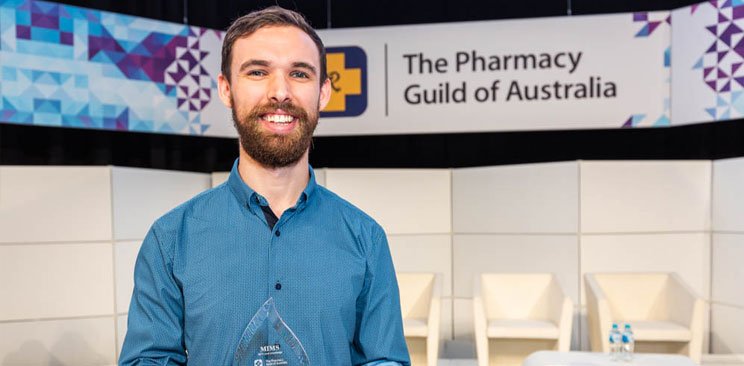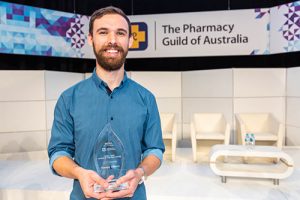 Timothy Stewart from Lanyon Pharmacy in Canberra – part of the Life Pharmacy Group – has been named the 2017 MIMS/Guild Intern of the Year.
Mr Stewart was awarded the title at the Australian Pharmacy Professional 2018 Conference on the Gold Coast last week.
"I'm absolutely honoured to be presented with this award and to be recognised as the MIMS/Guild Intern of the Year," he said. "This award will give me incredible opportunities to advance my career with education, and give me a voice to become a positive advocate for our profession.
"I'm truly passionate about pharmacy and the future that it holds, and I'm lucky that this passion has been reciprocated within my team in the Life Pharmacy Group."
Pharmacy Guild of Australia National Intern Training Program Manager Tim Roberts said: "A pharmacist's intern year is crucial to their future development in the industry, as it provides the core foundation required to succeed in the profession.
"However, there can only be one winner and Timothy's enthusiasm for the services that he engaged in throughout his internship and his commitment to continue skilling himself in these areas following registration have set him apart."
MIMS Australia CEO and Executive Director Robert Best said MIMS Australia was delighted to sponsor an award that showcased the innovation and excellence of interns within the industry.
"The MIMS/Guild Intern of the Year award is the perfect opportunity to highlight the outstanding contribution and dedication of the next generation of pharmacists," he said.
"Being able to award Timothy is extremely rewarding for the whole team at MIMS.
"Reducing risk for patients taking medicines has been a goal for MIMS for over 50 years in Australia.
"MIMS has been and continues to be committed to supporting young healthcare professionals from all parts of the healthcare ecosystem."
As the 2017 MIMS/Guild Intern of the Year award winner, Mr Stewart will receive a travel and educational scholarship to the value of $4,500, courtesy of MIMS Australia.