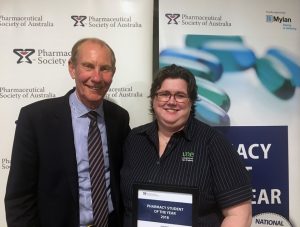 Katherine Pollard was named NSW Pharmacy Student of the Year by the Pharmaceutical Society of Australia last week.
PSA NSW branch president Professor Peter Carroll presented the award to the University of New England student, who will compete against the winners from the other states and territories for the national title at the PSA18 conference later this month.
Ms Pollard attributed the win to having grown up in a pharmacy family, serving customers from the age of seven. A young mother of three, she completed a science degree and has balanced study and family to pursue her passion of community pharmacy, saying she particularly enjoys the patient interaction.
Professor Carroll says the standard of competition was exceptionally high and the students stepped up to the challenge.
"All the NSW finalists were skilled and knowledgeable and displayed an enthusiasm and passion for their profession, which was very heartening and encouraging," he said.
One of the judges said: "This competition shows very clearly that the future of pharmacy is in very capable and committed hands."
Another judge added: "I was very impressed by how each finalist engaged with the consumer to ask all the right questions when counselling them."
The other finalists were:
Lauren Arms (University of Newcastle).
Lara Martin (University of Technology Sydney).
Jonathan Phuong (University of Sydney).
Hassan Taoube (Charles Sturt University).
The PSA will hold the national final at PSA18 at the Hyatt Regency Sydney on July 27-29. Further details and registration are available at www.psa18.com