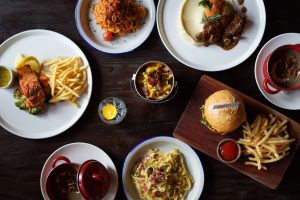 A new insight into the connection between nutrition and depression in adults 45 and over has been discovered.
The insights revealed by researchers at UNSW Sydney's Centre for Healthy Brain Ageing (CHeBA) indicates a beneficial relationship between higher intakes of vegetables and fruits, and lower incidence of depression.
There is a higher risk of depression for those that consumed predominantly western diet or foods that increase inflammation in the body, such as refined carbohydrates, fried foods and red meat.
Depression currently affects 264 million people globally and is the third leading burden of disease, thus proving significant to analyse, with the potential to aid those living with the mental health disease.
"Changing certain lifestyle behaviours, such as diet, can reduce the incidence of depression," says Dr Simone Reppermund, Senior Research Fellow.
How it was researched
Lead author, Annabel Matison, and colleagues from CHeBA, Univeristy of Sydney and UNSW Sydney's Department of Developmental Disability Neuropsychiatry examined 33 articles published up to December 2020.
The articles investigated the association between dietary intake and incidence of depression in community-dwelling individuals.
It was found that the "current evidence suggests Mediterranean diets, 'healthy' diets and fish intake were not associated with depression," says Ms Matison.
Co-author and leader of CHeBA's Genetics & Epigenomics Group, Dr Karen Mather says, "the results provide a promising direction for further investigation."
The research has been published in Ageing Research Reviews.