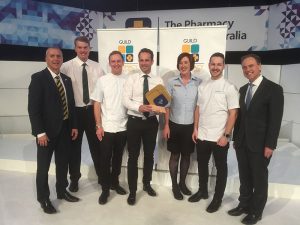 Southcity Pharmacy in Wagga Wagga, NSW, has been named the Guild Pharmacy of the Year 2018.
The Guild Pharmacy of the Year awards recognise excellence in community pharmacy practice with the announcement of winners across three categories, one of which is named the overall winner and Pharmacy of the Year. The category winners this year are:
Southcity Wagga Wagga – Community Engagement.
Gerald Burns Pharmacy Bicton WA – Professional Innovation.
Friendlies Pharmacy Busselton WA – Business Management.
The awards were presented by federal Minister for Health Greg Hunt at APP18 yesterday.
A spokesperson for the judging group, pharmacist Nick Panayiaris, Pharmacy Guild of Australia National Councillor and President of the South Australian Branch of the Guild, said the Southcity Pharmacy stood out as an exceptional model of business transformation with clinical integration.
"The business has gone from one run on a small staff and offering limited services to become a regional health destination," he said.
"It is now a destination with greatly increased staff numbers and a very strong focus on professional services."
Mr Panayiaris said "a strong element of Southcity's success has been the focus by management on staff engagement and training.
"Southcity Pharmacy has worked tirelessly to create an environment where pharmacists and all the staff feel comfortable and empowered to make business decisions that embrace innovation, improve workflow and enhance patient care," he said.
"It is continually investing in its staff to ensure they're engaged in the industry and have the skills to ensure they are a leader in professional services from their community pharmacy."