As pharmacists, we find ourselves grappling with the challenges posed by the double (or 60-day) dispense policy, which has left us uncertain about the future of community pharmacy and its role as a vital pillar in Australia's healthcare ecosystem.
Pharmacy owners are burdened with questions regarding the impact on their businesses, staff, and most importantly, their ability to continue serving their communities effectively.
Meanwhile, pharmacy customers are also seeking answers. What was initially hailed as a policy to reduce medication costs and improve adherence has become a source of concern, as the negative implications of its hasty implementation are revealed through consultations with their trusted healthcare professionals, the pharmacists.
One unfortunate consequence of this policy is that the promised savings seem primarily to benefit those who can already afford healthcare, while concession card holders, pensioners, the vulnerable, and individuals with complex medication needs, as well as those requiring delivery services or dose administration aids (DAAs), often end up paying the same or even more for their medicines.
Understanding the impact
Analysis of more than 5000 pharmacies from 1 June 2022 to 31 May 2023 revealed that 55 per cent of prescriptions are for double dispense drugs. The median impact on PBS scripts is $144,000 (see Figure 1).
It's crucial to recognise that these numbers can vary significantly depending on the customer profile of each pharmacy, such as the mix of general and concession customers and the types of scripts dispensed.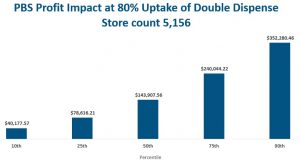 Contrary to initial assumptions, the impact on footfall may not be as significant as anticipated. A closer look at the analysis reveals the following insights about customers using medications on the 60-day list:
On average, these customers visit the pharmacy around 15 times a year to fill their prescriptions.
87 per cent of customers using double-dispense medicines also require single-dispense medicines in the same year.
50 per cent of all visits involve prescriptions that don't fall under the double dispense category.
These customers, on average, have 30 scripts a year, with 19 being double-dispense medicines and 11 single-dispense medicines.
Exploring opportunities 
Most pharmacies have now assessed their exposure to the double dispense policy and its specific impact on their stores. Now is the perfect time to focus on the factors within your control and capitalise on opportunities to mitigate these impacts.
Pharmacy banners, groups and independent pharmacies are all grappling with different strategies to alleviate the effects, necessitating a multi-pronged approach. While price increases on goods and services may be on the horizon, it's essential to approach this cautiously and explore alternative avenues.
According to a recent IQVIA survey of 200 pharmacists, 75 per cent responded that price increases on OTC consumer health products were strongly likely. They suggested the increase on vitamin and mineral supplements, cough and cold, and pain categories would be an average of 16 per cent. However, it's important to note that larger pharmacy groups may be less inclined to adopt this approach.
This analysis also highlighted that pharmacists are actively reassessing services, introducing charges for previously free offerings, and increasing fees for existing paid services.
As a result, considerations are being made regarding DAAs, deliveries, vaccinations, pharmacist-only medicine provision, wound care, blood pressure monitoring, blood glucose monitoring and various other services. Undoubtedly, these changes will have implications for the accessibility and affordability of healthcare for millions of Australians, potentially prompting a cost shift to other areas of the healthcare system.
Additionally, pharmacies are countenancing the possibility of passing on merchant fees, a decision they've been hesitant to make, but may be forced to consider in many cases.
Outperform by increasing prescription loyalty 
It's crucial to look beyond price increases and explore alternative avenues to mitigate the impacts of double dispense. One significant opportunity lies in capturing a larger share of customers and, more importantly, securing a greater share of prescriptions from existing customers.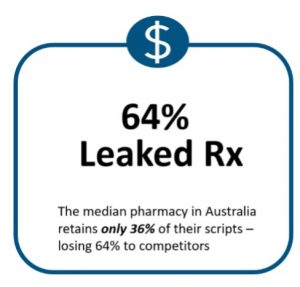 For an average-size pharmacy processing 140 scripts per day, even a one per cent increase in prescription loyalty can translate to a $38,000 boost in annual script revenue.
Alarmingly, prescription loyalty has declined post-COVID (Figure 2). While prescription customers leaned into their preferred pharmacy during uncertain times, the rise of telehealth services and alternative ways for customers to interact with the healthcare system has led to an increase in convenience-oriented customers and a subsequent decline in prescription loyalty.
Pharmacies that have maintained steady prescription loyalty over the past 12-24 months have likely adapted post-COVID by implementing technology-enabled strategies that resonate with this customer segment.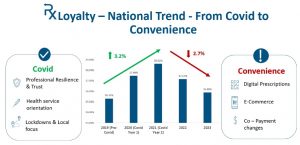 NostraData classifies customers based on their loyalty to a specific pharmacy. Pharmacists who focus on moving customers up the loyalty ladder tend to outperform in terms of prescription loyalty.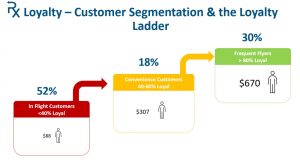 'Frequent flyers' are customers won over by superior customer-centric services. They fill more than 80 per cent of their prescriptions at a specific pharmacy and exhibit unwavering loyalty. On average, pharmacies have 30 per cent of their customers falling into this category. Frequent flyers spend more than double what convenience customers spend, and eight times as much as 'in-flight' customers on prescriptions.
Convenience customers, representing 18 per cent of the average script customers, display loyalty levels ranging from 40 per cent to 80 per cent. This group presents an opportunity for pharmacies to attract them with an appealing service catalogue and elevate their loyalty to become frequent flyers.
In-flight customers constitute the largest share but are harder to move up the loyalty ladder. They may visit a pharmacy while on holiday, pass through, or select a pharmacy based on proximity to their workplace. Medical clinic pharmacies and those in holiday destinations tend to have a higher percentage of in-flight customers.
So, how can pharmacies excel in terms of prescription loyalty? 
Firstly, it's essential to understand your pharmacy's specific numbers. Secondly, conduct a comprehensive review of your service catalogue. Thirdly, devise a plan in collaboration with your team and continuously monitor and adjust your strategies based on measured outcomes.
Several services have been proven to increase prescription loyalty: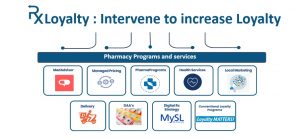 Utilising digital services such as MedAdvisor, reCare and Active Scripts List is a straightforward way to enhance prescription loyalty. How many customers do you currently have on MedAdvisor? Are you running regular campaigns to promote uptake? Do you reward staff who excel in this area?
DAAs can increase prescription loyalty and enhance adherence, delivering a double uplift. Deliveries are under review as a free service, but if customers in neighbouring suburbs know via local area marketing that you deliver to their suburb, say, every Friday, could you move them from a convenience customer to a frequent flyer by combining delivery and DAA? Furthermore, would you get a return on your service investment?
A group of stores that piloted NostraData's prescription loyalty platform, EchoRx, was able to identify their customers according to prescription loyalty, and deliver tailored services such as those mentioned above, and was able to realise a significant increase in prescription loyalty and revenue uplift across cohorts of patients.
The double dispense policy has raised significant concerns for pharmacists, pharmacy owners and customers alike.
The policy's implementation has resulted in unintended consequences, with vulnerable individuals and those with complex medication needs often bearing the brunt of the financial burden.
It's evident that pharmacies must adapt and find innovative solutions to mitigate the impacts of this policy while ensuring continued access to affordable healthcare for all Australians.
As pharmacists, we have the power to make a difference and shape the future of community pharmacy. It's time to explore alternative avenues beyond price increases and take proactive steps to increase prescription loyalty.
By capturing a larger share of customers and securing a greater share of prescriptions from existing customers, we can not only mitigate the effects of the double dispense policy, but also improve the overall sustainability and viability of community pharmacies.
To achieve this, it's crucial to understand our specific numbers and conduct a comprehensive review of our service catalogue.
Embracing technology-enabled strategies that resonate with customers, such as digital services like MedAdvisor, reCare, and Active Scripts List, can enhance prescription loyalty.
Additionally, services such as DAAs and tailored delivery options can further strengthen customer loyalty and adherence.
Collaboration within our teams is paramount. By devising a plan together and continuously monitoring and adjusting our strategies based on measured outcomes, we can ensure that we provide the right services and support our customers' needs.
Rewarding staff who excel in digital service uptake and foster a culture of customer-centric care will further drive prescription loyalty and enhance the overall pharmacy experience.
It's time for all pharmacists to act and outperform by increasing prescription loyalty. Let's seize this opportunity to shape the future of community pharmacy and ensure we continue serving our communities effectively.
Together, we can navigate the challenges the double dispense policy poses, and reaffirm our role as a vital pillar in Australia's healthcare ecosystem. Act now and make a difference in the lives of millions of Australians.
Written by NostraData Clinical and Customer Solutions Manager Nick Biggs and Director Mike Da Gama. 
This feature was originally published in the August issue of Retail Pharmacy magazine.