Priceline Pharmacy plans to expand its brand's range to meet changing customer demands, announcing at its annual conference a partnership with make-up artist Napoleon Perdis.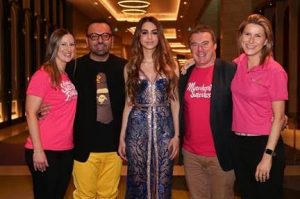 Priceline Pharmacy General Manager Tamalin Morton says changing shopping habits have meant consumers are looking for broader ranges of products in one location, prompting the brand to begin accentuating its mass-market brands with more exclusive product options.
"We've some really exciting developments coming, one of which is a fantastic new partnership with Napoleon Perdis that will provide our customers with a great range and exciting new choices," she said.
The Napoleon Perdis range in the Priceline network will include all the brand's existing products and many new products developed exclusively for Priceline.
"The exclusive Napoleon Perdis products will provide our customers with access to makeup artistry that they can't find anywhere else, which includes blush and eye palettes, skin care, primers, supercharged serums, masks and concealers," Ms Morton said.
The brand's creator, Napoleon Perdis, and his daughter Lianna Perdis gave a presentation to more than 500 delegates at the Priceline conference in Perth.
"This is a wonderful opportunity through the Priceline Pharmacy network to provide so many more customers with choice and empowerment to achieve their individually desired look and feel," Mr Perdis said.
The Napoleon Perdis range will be available in the Priceline network from August.