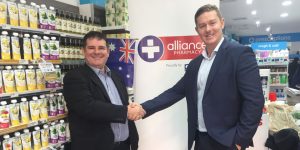 The Australian Pharmacy Alliance and DaigouSales.com have a new initiative called the Slingshot Brand Incubation Program to showcase emerging products throughout its 650 independent pharmacies across Australia.
The Slingshot program may assist emerging Australian brands to grow and establish their brands through a pharmacy-based retail placement program. It is the first of its kind in Australia.
"Unless you are an established brand, pharmacies and retail outlets don't want to know you," Dr Mathew McDougall, founder and Managing Director of DaigouSales.com said.
"If you want to export your products overseas into markets such as China, your product's brand awareness needs to be on the rise in Australia and you need to be achieving strong local retail sales. This all leads to greater consumer credibility in your target export markets.
"The Slingshot program is a brilliant initiative which will not only help Australian brands to raise their profile and sales in Australia, it will help them with their export journeys.".
The program offers emerging Australian brands the opportunity to put their products on consignment onto the shelves of an extensive network of independent retail pharmacies in up to 650 locations throughout Australia.
It will provide new brands with brand visibility in retail pharmacies throughout Australia, retail sales and brand development, warehousing of products, fully managed stock distribution and replenishment, a call centre for support and inquiry, and monthly payments.
"Independent pharmacies are mostly mum-and-dad businesses who not only care about their local community, they also have a strong desire to support other mum-and-dad businesses and Australian SMEs," Dr McDougall said.
"Importantly, our independent pharmacy members will become known for stocking emerging Australian brands and this will bring shoppers into the pharmacies wanting to support and buy local Australian products."