Pharmacist Movses Injejikian from Sydney's TerryWhite Chemmart (TWC) Matraville, which is pharmacy number 500 for the group, speaks with us about his career, the pharmacy, joining the TWC group and more.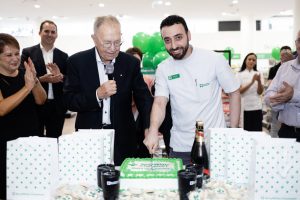 What have been some of your career and store highlights? Please elaborate on the valuable lessons learnt from them. 
I've worked as a pharmacist for 10 years. Our pharmacy (243sqm in size) is in a shopping centre in the heart of Matraville in the eastern suburbs of Sydney and has a broad customer base including the elderly, parents and the La Perouse Aboriginal community.
Having worked in several suburbs in Sydney and overseas, I knew success depended heavily on how well I understood the needs of the local community. That's why I moved to Matraville in 2021 – to fully immerse myself in the community and become a true health leader.
More recently, renovating the pharmacy has also been one of the biggest highlights of the journey. The fresh new look has been generating very positive feedback from customers, and the team is loving working in the new surrounds. The store has evolved into a modern, vibrant place for customers and has attracted people from all areas of Sydney and beyond. It's very exciting for the community and for the team.
What has been your most satisfying moment in the pharmacy? 
For me, I get the most satisfaction from the trust we continue to gain from the people around Matraville. Seeing our customers satisfied, from the professional health services they receive from our highly trained teams to the value they get from the competitive pricing, wide range of products on offer and our promotional programs, makes coming to work all the more empowering.
Describe your day-to-day challenges and how you overcome them. 
Clinical interventions are core to the health services we provide at TerryWhite Chemmart Matraville. We have many customers who are on multiple medications, and by following the TWC MedsChecks guidelines we're now able to deliver a comprehensive medicine review of any given customer within a short period of time.
Taking the time to listen to our patients is important, particularly as many of them who visit us are doing so because they're in pain or concerned about their medical condition. We use the dispensing time as an opportunity to connect with our patients on a deeper level by having a conversation about their problems and developing a better understanding of their worries. Doing this enables us to build trust and ultimately deliver the best professional advice we can about their medicines. 
TWC Matraville is TWC's 500th pharmacy. What is it like being part of the TWC group? 
For me, TerryWhite Chemmart is more than just a name above the door: it's a partnership. The level of support I receive from the group is second to none and I know that they're on this journey with me. We were honoured to have Terry and Rhonda White [founders of the Terry White Chemists brand, which merged with the Chemmart group in 2016], EBOS CEO John Cullity and numerous representatives from the TWC support office team at our recent grand opening to help celebrate this incredible milestone. It's great to know our store, along with the other successful TWC pharmacies in Australia, will be viewed as a prototype to attract other independent pharmacies to rebrand to TWC.
Tell us about the ethos of your pharmacy and how it differs from other pharmacies in your view. 
We try not to take ourselves too seriously, and often our customers will walk in hearing laughter. Acknowledging our customers within the first 30 seconds of entering is one of the simplest targets we have in providing a satisfying customer experience. We love getting to know our customers and making them feel welcome in our pharmacy. Even their dogs who visit get treats while waiting for their owners.
Why is looking after your community so important to your pharmacy? What do you think your customer base values the most about your pharmacy? 
Pharmacy in four words is science, art, business, humanity. And this is what we emphasise day in, day out when serving our community. I'd like to think our community sees us as a destination for all their health needs and that every time they walk into our pharmacy they're provided with expert advice and genuine care. But we also want our customers to walk away with more than what they expected when coming in. Going over and above is what we strive for as a team.
How did the Covid-19 pandemic most significantly change the way your pharmacy operates? 
Increasing our home deliveries, administering the Covid-19 vaccines, filling the gaps of medicine shortages are just a few examples of the challenges we experienced during the pandemic. However, there have also been many positives that have come out of the pandemic, such as helping customers better understand the important role a pharmacist plays in the community.
How has your team performed during the challenges of Covid?
Despite all the upheaval and challenges, our friendly staff have never let their smiles leave their faces. The pandemic has placed enormous strain on pharmacy and pharmacy teams, particularly with the recent shortage of rapid antigen tests (RATs) when they were in high demand, but having open, honest communication through a variety of channels helped manage the countless inquiries we received. The last few years have certainly been testing on our teams and customers, so we've just had to take each day as it comes, and take any learning we can from every experience.
What is your most successful OTC category in your pharmacy and why?   
Skincare. We're located close to some of the nicest beaches in Sydney and therefore receive numerous skincare inquiries. TerryWhite Chemmart has an exceptional range of skin products that can provide relief for a range of skin conditions, so we've become quite the destination for skincare.
Does your pharmacy offer professional services? 
Yes – MedsChecks, diabetes MedsChecks, sleep apnoea services, podiatry, vaccinations, dose administration aids. 
What is your most popular service? Why do you think it's so successful? 
Outside of vaccinations, providing sleep apnoea consultation is the most popular service we deliver in TWC Matraville. Educating the community about this medical condition was our target for 2021 and we're glad that we could relieve a few sleep apnoea sufferers from this hidden issue.
What do you expect the rest of 2022 has in store for pharmacy, touching on any changes you think will occur, such as those relating to Covid, customer traffic, the environment, etc? 
We now have a wider range of OTC products after rebranding to TerryWhite Chemmart, which has already increased customer traffic significantly. We're set up to meet all vaccination services requirements due to the incredible program that TWC provides in this area, and are also now well prepared to deliver the supervised RATs program thanks to the support and guidance of the TWC health team. Who knows what the next few years will bring us, but I take comfort in knowing we have an incredible support network behind us that will help guide us through any challenges that may come our way.
What do you look forward to the most in 2022?  
We're gearing up to rebrand our pharmacy in Campbelltown [on Sydney's south-western outskirts] as TerryWhite Chemmart very soon. We might just be the store number 600 there!
This feature was originally published in the May issue of Retail Pharmacy magazine.