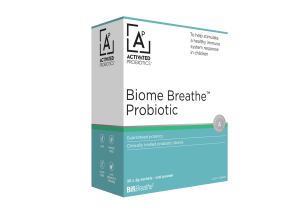 Activated Probiotics commits to giving away $30,000 worth of Biome Breathe products to help those suffering asthma symptoms from smoke inhalation.
Biome Breathe is clinically proven to significantly reduce the frequency and severity of Allergic Asthma Attacks. The products are also able to be used alongside prescribed medications for prevention and relief.
"We would like to share the one thing we have that can make a measurable difference to those who are struggling through the bushfires and resulting smoke," said Activated Probiotics founder Blair Norfolk.
"We are committed to providing Biome Breathe to as many people who need it, while we start to measure the long-term effects of the fires and impact on our health."
How to order the product:
The product can be made available from any pharmacy in Australia at no cost, by asking the pharmacist in store to contact the Biome Breathe Bushfire support line.
Website: www.activatedprobiotics.com.au 
E-mail: support@activated.co
Ph: (03) 9046 8548