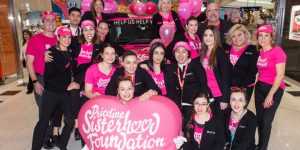 Priceline Pharmacy says it passed its previous fundraising record by collecting more than $1.1 million between June 7 and July 7 for its Priceline Sisterhood Foundation, which supports five charities that help women and their families.
The money raised through the 'Misterhood for the Sisterhood' campaign takes the total collected for the foundation to $4.5 million.
"Raising more than $1 million in a month is a monumental achievement and was made possible only by the hard work and dedication of our store network," Priceline Pharmacy CEO Richard Vincent said. "Our store teams showed exceptional enthusiasm throughout the month and engaged with every customer to help reach this milestone."
Former cricket star Merv Hughes joined the foundation as its first 'Mister' and toured the country visiting Priceline Pharmacy stores from Canning Vale in southern Perth to Mareeba in far north Queensland to help drive donations.
While in store Mr Hughes was a stand-in beauty advisor, had his famous mo' turned glitter pink, encouraged customers to buy scratchies and had photos taken for a donation.
Priceline Pharmacy says during the month there was a strong sense of community throughout its 465 stores with many pharmacists following in Mr Hughes' footsteps as a local 'Mister' and dyeing their hair pink or taking part in challenges. In addition to store events, Priceline Pharmacy sold Sisterhood scratchies where customers had a one in five chance of winning a prize and their $2 contribution went to the foundation.
Priceline Pharmacy Wollongong says it rallied its local community with passion and determination to raise $10,000 during the month. Store manager Sally Johnston said: "We aimed high because we wanted to make a real difference to these charities that help so many people in need. It is so wonderful to be a part of a brand that supports such important charities and encourages us to give back to the community".
The five charity partners of the Priceline Sisterhood Foundation help women and their families living with cancer, postnatal depression and dementia, as well as underprivileged children and vulnerable young adults.