Looking at the roots of problems is the ethos of Capital Chemist Calwell in the ACT.
Whether it's a staffing issue or a health concern at the front counter, for pharmacist Elise Thornton and her business partner, Kathleen Tran, getting to the bottom of problems is what makes their pharmacy special.
"We have a particular drive to look at things holistically," Ms Thornton says.
"So, we make an effort to find the cause of health problems and not just Band-Aid them, and I think that probably works well in business as well as health."
Nurturing young interns is also at the core of the pharmacy and is something that comes naturally to the women in charge.
As Ms Thornton candidly explained, there's no such a thing as a structured program for interns, but allowing them to grow and experience pharmacy from every angle is what has worked for them so far.
"We've been pretty lucky, and we've had some amazing interns," she says.
"I get really excited when we have an intern apply. We try to just give them as many opportunities as we can. We make sure they've got supervision and guidance, but we try to give them as much exposure to a big variety of tasks and all [of] our services. We do have quite a few pharmacists on staff, some of them with specialities such as HMRs or being diabetes educators, so there's a big pool of knowledge available to them."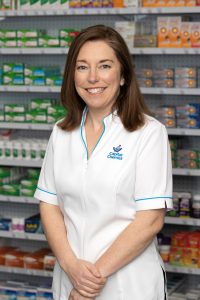 The strategy has worked, with Capital Chemist Calwell's Lucinda Kenny announced earlier this year as the 2019 MIMS/Guild Intern of the Year.
"Through Capital Chemist, I've truly learned the meaning behind innovation and dedicated service to the community and I wish to align those values within my own pharmacy in the, hopefully near, future," Ms Kenny says.
According to Ms Thornton, at all pharmacies in the Capital Chemist group, the person who owns the business is the person who runs the business. So the owner is the pharmacist on the floor.
"I think that's really important," she says.
Managing her time between the business and being on the floor connecting with patients is a balancing act, but one that must be split evenly in order to reap the rewards that come from running an efficient business and offering professional customer service.
This balancing act was put to the test earlier this year with the catastrophic fires that greatly affected the Canberra area, soon followed by the outbreak of Covid-19.
Key to the ongoing effort to keep staff safe and keep servicing the community was conveying the right messages to everyone.
"I think managing patient anxieties and making sure they know we're a safe place to come to, and that they're not ignoring health challenges because of misconceptions that Covid-19 has changed our ability to help, is key," Ms Thornton says.
"So, making sure we're communicating that, if there's something that we could do for them before, we'll still find a way to do that now, like consultations or home deliveries, or setting up video to explain how to use a device… we just need to find ways to do things." 
FAST FACTS
Name: pharmacist/owner Elise Thornton.
How long have you been a pharmacist? 16 years.
How many staff do you employ?  35.
How long have you operated your current pharmacy? 13 years.
Do you offer professional services? Asthma check, blood glucose testing, blood pressure, cholesterol screening, Closing The Gap, complementary and alternative medicines, diabetes MedsCheck, diabetes screening, dose administration aids, emergency contraception, eRx, HbA1c testing – at home, HbA1c testing – in-store, hepatitis C dispensing, HIV dispensing, home medicines review, influenza vaccination, iron studies/anemia screening, lice clinic, MedAdvisor, medicinal cannabis dispensing, mental health first aid, mobility and equipment hire, myDNA genetic testing, NDSS, needle and syringe supply, return unwanted medicines, safety net management, scripts on file, smoking cessation, staged supply, travel medicine advice, weight loss Impromy, whooping cough vaccination, workplace leave certificate.
For more on the professional services offered, visit: capitalchemist.com.au/services.aspx.
What kind of customers do you attract?
Every time I look at our demographics, to be honest, there's nothing that stands out. We kind of just get everyone. We're a suburban pharmacy in a small shopping centre. We've got new mums with babies, middle aged public servants, elderly patients… a little bit of everything.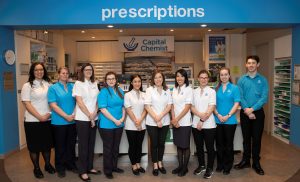 What is the philosophy of your pharmacy?
The thing we try to do is treat our staff and patients like our family and to always go to the source. Whether it's managing staff or your health, I think finding the root cause of the problem is the best way to have success.
What size is your pharmacy? About 200sqm.
What is the most successful OTC category in your pharmacy?
Natural medicine is our biggest, and I think it's because we try to look at things holistically, look for the root cause. We make sure patients are checking in with their doctors for deficiencies and looking after their whole health. I've done quite a few courses in integrative health, nutrition and natural medicine.
Describe your day-to-day challenges and how you overcome them.
My ongoing challenge has always been balancing time: managing the business versus balancing time on the floor, being the pharmacist. I love both and need a certain amount of both. That's always the biggest thing for me: swapping between those two roles and how to do that in the most effective way.
What has been your most satisfying moment in your pharmacy?
I started in pharmacy when I was 14 years old and I've just loved it, right from the start, so being able to own my own pharmacy, build the team, the environment and the services that I wanted to provide [to] my community is really rewarding. I think despite the awful loads that we've had this year, being able to be here as a consistent place of support for our community has really been rewarding and that's definitely been the most satisfying moment for me.
To read the feature as it appears in the August issue of Retail Pharmacy, visit: retailpharmacymagazine.com.au/magazine.