Applications have opened for the Pharmacy Guild's competition to find the country's top pharmacy.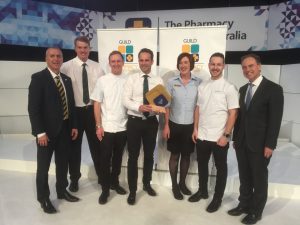 Pharmacy of the Year (POTY) 2019, a Guild initiative sponsored by Care Pharmaceuticals and the Quality Care Pharmacy Program, seeks to acknowledge the most innovative and adaptable pharmacy businesses that strive to provide more healthcare services to their patients in more ways.
The Guild says the awards are the benchmark for recognising excellence in the community pharmacy industry and honour those community-pharmacy businesses that achieve excellence in providing consumers the best care, medication, advice and professional services.
Guild members can enter in the categories of:
Excellence in Business Management.
Excellence in Community Engagement.
Excellence in Professional Innovation.
One of the three category winners will be named the overall Guild Pharmacy of the Year at APP2019 to be held on the Gold Coast on March 7-10, 2019.
The 2019 competition also marks the 20th anniversary of showcasing exemplary Guild pharmacies.
The competition is open to all Guild-member community pharmacy businesses. Previous POTY entrants, including winners, may also submit entries this year.
Entries for the competition are now open and are set to close on Friday, August 3.
Further competition details, including how to enter, are available at www.guild.org.au/news-events/guild-awards/pharmacy-of-the-year.