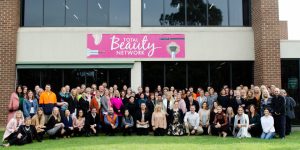 Total Beauty Network (TBN) has achieved company-wide year-to-date growth of 38 per cent compared with last year, according to CEO Tony Rechtman, addressing TBN's  June pharmacy and health conference.
TBN's brand portfolio includes Designer Brands (DB), Colour by TBN, Inika and Raww Cosmetics.
The result was described as putting TBN at more than 17 times the industry average growth for cosmetics in Australia alone (Statista 2018 Cosmetics and Personal Care: annual growth 2.2 per cent CAGR 2018-202).
With 90 people attending the event at TBN headquarters in Melbourne, the DB Cosmetics, Colour by TBN and Raww pharmacy and health teams viewed the launch schedule for the second half of 2018 and Christmas offerings, with promotions structured specifically to drive consumers into stores.
Guest speaker Sarah Roza from TV's Married at First Sight gave the DB Cosmetics team an insight into her "love" of the brand and the benefits of shopping for beauty in pharmacy.
She presented a Q&A session at which no questions were off limits, shared anecdotes and touched on the importance of having access to quality and conveniently located cosmetics, at an accessible price.
She also noted the expertise of the team at her local pharmacy, Pharmacy 4 Less in Coburg, Melbourne.
Another speaker, Mirella Chiodo, held a workshop on Raww's new Cosmos "superfood-infused" aromatherapy range, which will be available on shelves in October.
Also announced at the conference were ongoing ambassadors for Raww and DB: respectively @GeorgieStevenson (health/lifestyle influencer and lawyer) and @SophieCachia (parenting and lifestyle influencer).
"Despite intense competition in our categories, we remain an Australian-owned and independent company that has risen to the top with growth figures that are unheard of in other businesses," Mr Rechtman said at the close of the conference.
"We are proud to enjoy this success with all our retail partners and will continue on our mission to drive consumers right into their doors."