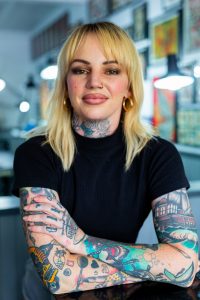 Getting inked is a growing trend, with a quarter of Australians having at least one tattoo, and 1 in 10 getting a tattoo within the last 12 months*.
However, research reveals that almost half of Aussies (44%) risked the proper healing of their first tattoo by not following aftercare instructions completely.
Women are proven to play it safer than men when it comes to following aftercare instructions more completely (65% vs 49%).
Celebrity tattoo artist and Bepanthen Tattoo ambassador Lauren Winzer (who has tattooed the likes of Miley Cyrus, Sophie Turner and Post Malone) says, "I was shocked by how many Aussies don't know how to care for their tattoo before hitting the chair!
"Aftercare is just as important as choosing the right artist, but it seems we're not putting equal effort into both."
Ms Winzer recommends her clients use Bepanthen Tattoo to heal their tattoos. It's said to be enriched with pro-vitamin B5 to help skin actively heal and repair its natural barrier from within.
"A first tattoo is often a permanent expression of something super meaningful or special to that person – it's crazy that people would risk preserving this memory by ignoring the golden rules of aftercare!" Ms Winzer continues.
Top tips for first time tattoos
Ms Winzer lists her top tips for those getting their first tattoo.
Choosing a reputable artist: Check out their Instagram – it's like an online portfolio and will give you a good sense idea of their style and experience.
Choosing you design: Find something that is meaningful to you – work with you artist to create something that is super special – and that you won't regret!
Prepare physically: Eat a good meal beforehand and be sure to drink lots of water. And don't get into the chair with sunburn!
Prepare mentally: It's healthy to be nervous but chat to friends or your artist about their tattoo experience so you know what to expect before you jump into the chair.
Aftercare: Always use a specialist aftercare treatment like Bepanthen Tattoo. This is super important as it will help to heal and repair your skin and protect the tattoo.
Bepanthen Tattoo Ointment (50g) is available in the First Aid or Beauty Aisle of your local pharmacy and Coles Supermarkets, with an RRP of $7.99.
*Tattoo Incidence Rate Check, Nielsen 2019.